In our first segment, we started with the basics.  Hopefully, with a little mindfulness, you'll be able to incorporate those practices into your daily routine.  Forming new healthy habits & letting go of the old junk.
In this segment, we wanted to offer some knock-out supplements.  We understand that everyone's shopping (and eating) habits have been disrupted.  Some of these supplements might not be readily available in the grocery, and even if they are, we appreciate the abundance of caution when purchasing fresh produce.  As with all of our tips, we encourage you to take what you can use today, and leave the rest for another time.  It's ok.
(All of the titles are hyperlinked to order online.)
Green Vibrance. We're starting with something that is available through Amazon (and on the shelf, locally at Whole Foods & Fresh Thyme).  It's a powder supplement that you can add to plain water, or your own smoothie mix.  There are other options, but we like this because it's water-soluble; meaning it dissolves in water if you leave it overnight.  That means it's easier for your body to digest & begin to use the nutrients right away. The others on the shelf next to this option will look similar in packaging, but they are not as good.  So, make sure you get the right stuff.  You can order online HERE and HERE.
Tulsi (aka, Holy Basil). In Ayurveda (the medicinal & nutritional science of yoga), tulsi is used to promote mental clarity. These types of medicinal immunity-boosting herbs are known as rasayana.  Try this recipe: 1 tsp honey, ¼ tsp ground black pepper, and ½ tsp tulsi leaf power.
Elderberry. This is a natural antioxidant & source of Vitamin C.  Also, it's worth noting that Sambucol Black Elderberry Syrup has been proven to deactivate 10 different strains of the flu.  That's incredible!  Click the links HERE and HERE to read about it.
Echinacea. This herb can useful to rebuild if you're feeling run down & worn out by stress.  When your brain feels stressed, your body reacts. It's science, people!  J This is why we would always reinforce the need for a meditation element to your yoga practice. Combined with Elderberry, this supplement is your flu-fighting dynamic duo. KAPOW!  Holy tea bags, Batman!
#5 is 5 Home Tea Recipes. Here are 5 tea recipes that can help respiratory conditions:

Ginger & Garlic: Half cup of ginger tea mixed with 2-3 crushed garlic cloves
Ginger & Turmeric: Boil a teaspoon of freshly grated ginger in a glass of milk and add 1/2 teaspoon of turmeric powder
Cinnamon, Trikatu & Honey. Add 1 tsp cinnamonand ¼ tsp trikatu to a cup of boiling water. Let steep for 10 minutes then add 1 tsp of honey. Trikatu is a Sanskrit word meaning three spices or three peppers. Trikatu is an Ayurvedic blend of equal parts of the fruits of Black Pepper (Piper nigrum), Long Pepper (Piper longum) and the rhizomes of Ginger (Zingiber officinale). It is used to support normal gastric function and normal circulation.
Licorice & Ginger. ½ tsp licorice & ½ tsp of ginger in a cup of boiling water
Bay leaf & Honey: ½ tsp of bay leaf and ¼ tsp of pippali with 1 tsp of honey. Pippali – one part of Trikatu, mentioned above – is the Asian long pepper.
Chlorophyll.  There are lots of types & a variety of flavored chlorophyll, we like the one linked HERE from Sunny Green. There are many benefits of taking chlorophyll, including boosting your immunity.  In our experience, it's also a great additive to your water when we get back to sweating again.  Medical News Today did this pretty good article summarizing many of the benefits.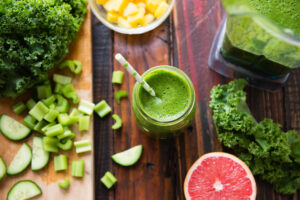 7. Lavender. Well, let's face it, this might be the best part of Savasana.  Home emergency kit: Fill a zip-lock back about halfway with water, add a few drops, then put a hand-towel in the bag, seal it, and stick it in your fridge.  In case of stress, break open the bag, close your eyes, lay back & just chill for a sec.  Peace of mind is the best supplement!
It's ok.  You don't have to do everything all at once.  Set your intention.  Be confident taking just one breath at a time, one step at a time, one day at a time.